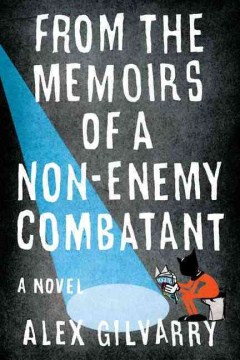 Boyet Hernandez is a small man with a big American dream when he arrives in New York in 2002, fresh out of fashion school in the Philippines. But on the brink of fame and fortune, there comes instead a knock on the door in the middle of the night: the flamboyant ex-Catholic is swept to America's most notorious prison, administered a Qur'an and locked away indefinitely to discover his link to a terrorist plot.
Funny, wise and beguiling, From the Memoirs of a Non-Enemy Combatant gives us a tale so eerily evocative that it, and its hero, are poised to become an indelible part of the reader's imagination and the literature of our strange times.
Alex Gilvarry is a native of Staten Island, New York.  He has been a Norm
an Mailer Fellow and has written for NPR's All Things Considered, The Paris Review, and other publications.  He is the founding editor of the website Tottenville Review, a book review collaborative.  From the Memoirs of a Non-Enemy Combatantis his first novel.  He lives in Brooklyn, New York and Cambridge, Massachusetts.
Listen to Sam's interview with Alexis on Podomatic or you can download the podcast on iTunes.